| | | |
| --- | --- | --- |
| | Member Products | |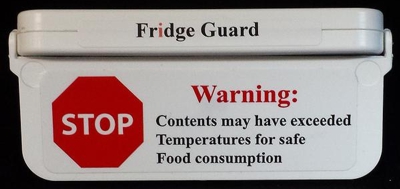 Fridge Guard - Invented and manufactured by Rick Mason
Have you ever come home from work or from vacation and noticed that the power had been off? You have no idea how long the power was out. Will the food in the refrigerator still be safe to eat? Is the smell test reliable? The FDA's website suggests that food be kept stored at 40° F or less and not be left at room temperature (70°) for more than 2 hours (or an hour at 90°). Do you want to be one of the 128,000 Americans hospitalized, or worse, 3,000 that die each year due to food borne illnesses? The Fridge Guard is a temperature monitoring device that lets you know if food has been at an unsafe temperature for too long. The unit is self adhesive for easily mounting under a shelf or at the inside top of a refrigerator and contains a carefully selected bimetalic spring that causes a warning flag to drop down if an unsafe temperature has been exceeded for too long. The unit takes up very little space in the refrigerator and there are no batteries required!
See this product and order at safefoodmonitor.com/
---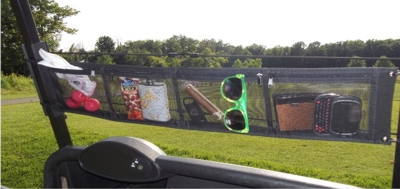 The Cart Valet - Invented and manufactured by Lynn & Dave Soave
Have you ever left valuables such as expensive cell phones or sun glasses behind in your golf cart? Would you like items such as golf tees, gloves, snacks, and much more in easy reach in your golf cart? Do you want someplace other than the cup holders in which to place your IPOD or Bluetooth speaker? This organizer is specifically size optimized for use on golf carts and has several zipper closeable, see-through mesh pockets in which you can safely and easily store much of the paraphanelia that you drag along on a golf outing. In fact, you can prestore many of the golf-only items in the pockets and just roll the whole organizer up and stash it in your golf bag between tee times. Also makes a great gift for the golfer who already has too much miscellaneous stuff.
See this product and order at thecartvalet.com
---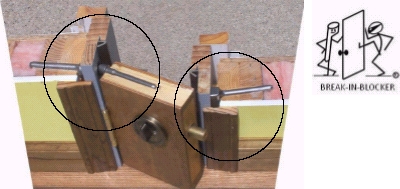 Break-in-Blocker - Invented and manufactured by Marty Sovis
The Break-in-Blocker system ties a door, through a weak doorframe, into the building studs on both sides of the door. A reusable installation kit allows for a fast and accurate installation of the stainless steel pins and sockets that prevent an intruder from kicking in the door. The system is virtually invisible once installed. A commercial product is also available for steel out-swing doors.
See his product line and order at www.breakinblocker.com
---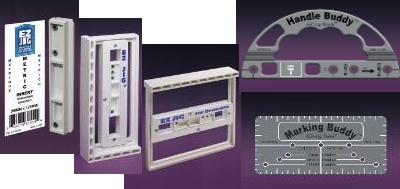 EZ Jig Tools - Invented and manufactured by Michael Ball
EZ Jig Tools started as a one tool company manufacturing the world's finest cabinet door handle and knob installation tool. They now manufacture eight tools that are sold in over 160 locations in the United States. There is a series of tools for professionals and a series for homeownere. In both cases the tools are made of top quality materials to exacting specifications and manufactured right here in the United States.
See the product line at www.ezjig.com or order through Amazon.com
---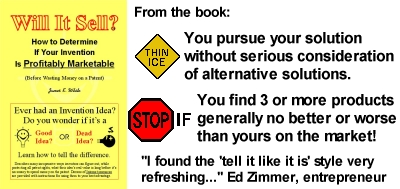 Will It Sell? - Written and Published by Jim White
Will It Sell? is a book that inexpensively takes inventors through the basic processes of determining whether their invention is economically worth persuing before they have to commit serious resources or even get a patent. The book covers basic protection steps, getting objective market feedback, understanding what patents do (and cannot do), fathoming the mysteries of trademarks (registered or not), and getting manufacturing under way.
See book info at willitsell.com or order at amazon.com
---